Star Wars' Daisy Ridley denies wanting to leave franchise
Daisy Ridley has denied wanting to give up the "awesome" role of Rey at the end of the current Star Wars series.
She celebrated the "three-dimensional" heroine, who has been hailed as a role model for boys and girls at a time of debate over the lack of such roles for women.
Ridley returns as Rey in Star Wars: The Last Jedi and will again revisit the part in the ninth episode – but reports had suggested she wanted it to be her last.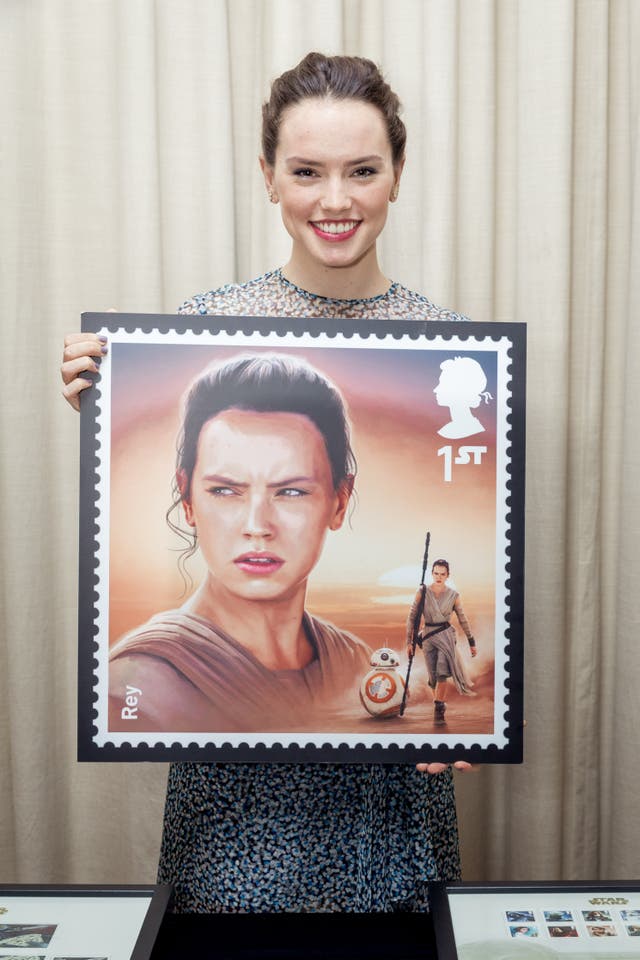 Daisy Ridley posing with the Star Wars stamp featuring her character Rey (Royal Mail/PA)
"When I did sign up I did sign up for three films… and that's where I sort of saw the story ending, JJ (Abrams, The Force Awakens director) said the same thing," the British actress told the Press Association in Los Angeles.
"I think everyone has perhaps taken that as me going, 'I don't want anything to do with it' which is vastly untrue because this is awesome."
Hollywood produces a dearth of leading women characters, with women accounting for just 29% of lead solo roles and 37% of major roles in the top 100 grossing films of last year, according to research by the Centre for the Study of Women in Television and Film.
Ridley, 25, said it was meaningful that Rey features in a film produced a major firm, Walt Disney Studios, and praised Abrams and producer Kathleen Kennedy for the character.
"JJ has always put brilliant females in his things and Kathy also has had such a vast career with three-dimensional characters, full stop, regardless of gender," Ridley said.
"So I think it was wonderful and then the fact it came from a big studio says a lot too, and I think there's a big change already. Obviously there's still a long way to go."