Dwayne Johnson wanted to be 'respectful' of Robin Williams in new Jumanji film
Dwayne 'The Rock' Johnson has said he wanted to respect the late Robin Williams while making the latest Jumanji film.
The Mrs Doubtfire star, who died in 2014 after battling mental health issues, also appeared in the original version of the cult classic Jumanji in 1995, playing Alan Parrish, a boy who gets stuck in a board game for more than two decades.
Johnson told the Graham Norton Show: "We wanted to do something that was respectful of the work of Robin Williams as well as creating something fresh.
"Once we figured out the new take on it we just did it. It was great fun."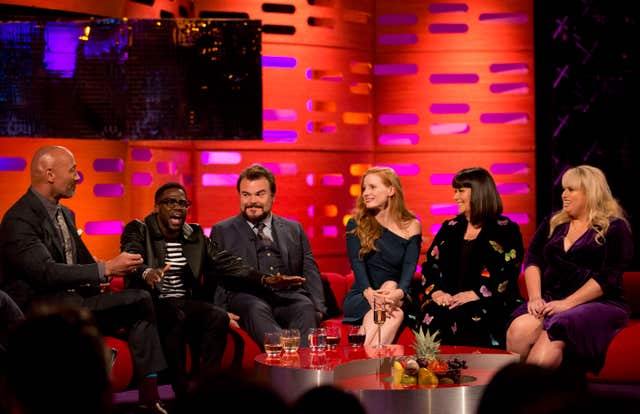 Johnson appeared on the Graham Norton show with his co-stars (Isabel Infantes/PA)
The actor and wrestler was joined by his Jumanji: Welcome to the Jungle co-stars Kevin Hart and Jack Black on the BBC show, which airs Friday.
And while Johnson said he loved making the film in Hawaii, Hart said: "I didn't like it at all. I particularly didn't like the jungle.
"I am not an outdoors guy because there are too many spiders and centipedes."