Black Mirror gets two Emmys while The Crown scooped one, despite 13 nominations
Charlie Brooker and Riz Ahmed led the way for Britain at the Emmys in a night of disappointment for The Crown after it entered television's biggest ceremony with high expectations.
Brooker's Black Mirror scooped two accolades, while debutante Riz Ahmed won lead actor in a limited series for his role in The Night Of at the Los Angeles ceremony on Sunday.
Despite receiving 13 nominations, The Crown only scooped one award – with US actor John Lithgow winning best supporting actor in a drama series for his portrayal of Sir Winston Churchill.The highest achievers were the dystopian show The Handmaid's Tale and Big Little Lies, which netted five-a-piece.
The Handmaid's Tale, based on the Margaret Atwood novel, won best drama and lead actress in a drama series for Elisabeth Moss, while Nicole Kidman won outstanding lead actress in a limited drama for Big Little Lies.
On the politically-charged night which saw Donald Trump a repeated target of criticism, the Armando Iannucci-created satire Veep was also a winner with two awards including best comedy.
So too was comedy series Saturday Night Live, which has resurged with its repeated attacks on the US President.
In one of the diatribes on the night he was called a "sexist, egotistical, lying, hypocritical, bigot" in a speech by presenters Lily Tomlin and Jane Fonda.
The pair were on stage with Dolly Parton, having walked out to the theme music of their 1980 hit movie 9 To 5.
The country singer raised her eyebrows but remained silent during her co-stars' critique.
Reading-born Brooker, 46, collected the writing for a limited series award and outstanding television movie, both for the San Junipero episode.
Londoner Ahmed, who portrayed a Pakistani-American's experience in the US legal system in the show based on 2008 British series Criminal Justice, said the award was bittersweet.
"It's always strange reaping the rewards of a story that's based on real-world suffering," the 34-year-old said.
"But if this show has shone a light on some of the prejudice in our society, xenophobia, some of the injustice in our justice system then maybe that's something."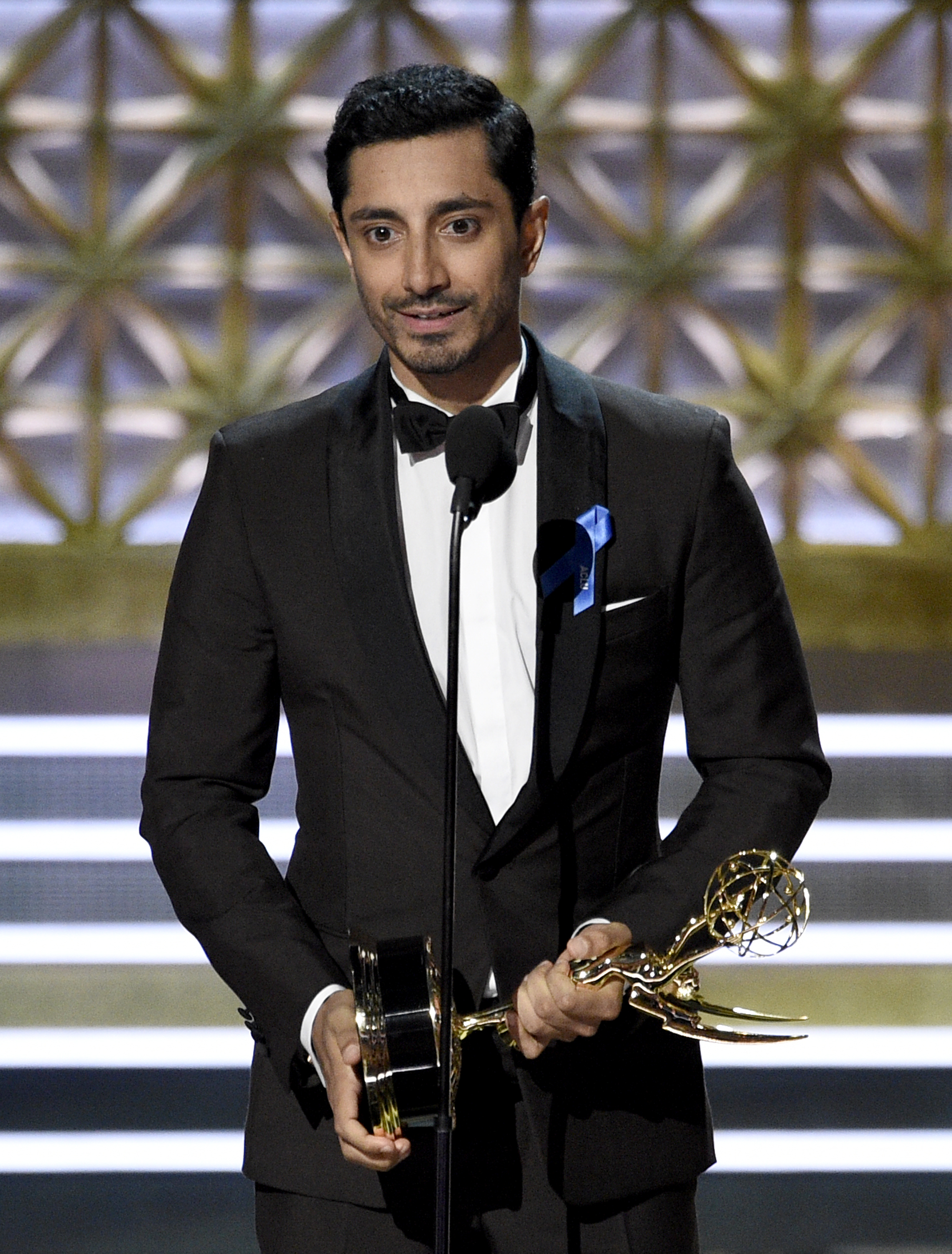 Riz Ahmed accepts his award (Chris Pizzello/AP)
Birmingham-born John Oliver, 40, scooped outstanding writing for a comedy series and best variety talk series for his US talk-show Last Week Tonight.
Stranger Things' Millie Bobby Brown, 13, missed out on becoming the youngest ever Emmy winner at the Microsoft Theatre when the Briton was beaten to best supporting actress in a drama series by Ann Dowd in The Handmaid's Tale.
Other nominated Brits to walk away empty handed were Westworld's Anthony Hopkins and Benedict Cumberbatch for Sherlock: The Lying Detective.
Congrats @JohnLithgow on your Primetime #Emmy Award for #TheCrown pic.twitter.com/CZoAEz8aBg

— The Emmys® (NATAS) (@TheEmmys) September 18, 2017
Among The Crown's nominations at the 69th Emmys were best drama series and lead drama actress for Stockport's Claire Foy.